The Thurston Players' 46th Annual Production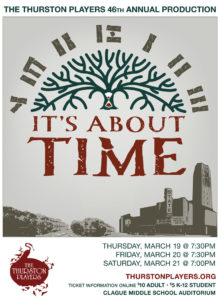 SHOW POSTPONED!
New Date and Time
Sunday, April 26, 2020
@1pm and @6pm
Clague Middle School Auditorium
Tickets $10 Adult / $5 Student
Thank you to our sponsoring local businesses
Rick Taylor Real Estate
MSPA Crush
Sweetwaters
Dave and Linda Anderson Real Estate
Edward and Schaefer Orthodontics
Embrace Orthodontics
Hungry Howie's
ABA Pathways
Cardamom Restaurant
Carpenter Brothers
Dance Theatre Studio
Ita Yoga
Joe Tiberi Farm Bureau Insurance
OHAC
PTO Thift Shop
Reinhart Residential Property Management
UM Chemical Engineering Department
Ypsilanti Running Company
Gretchen's House
Bank of Ann Arbor
College Prep Career Prep
Neutral Zone
Barre Code
Tree Town Pediatric Dentistry
Margaret Baker
Bookbound Bookstore
Ann Arbor T-shirt Company
Our hearts are sad to announce that for the first time in 46 years of production, we need to postpone our show. The play will no longer be held this year on March 19, 20 & 21. This decision follows AAPS's directive that all school activities are cancelled until April 13, 2020 due to health measures. Pre-sold show tickets will be refunded to ticket holders.
We have discussed many options in preparation for this very situation. Based on every possible scenario, the only opportunity for a rescheduled show is to perform on one day on Sunday, April 26, 2020. We will have two performances in one day: one show at 1:00 pm and a second at 6:00 pm. Save the date.
Thank you to our Thurston Community Players Cast & Crew and our community for your commitment, support and understanding.
With our best regards,
Thurston Community Players Board
---
Strange things are afoot in the Arb. During the annual performance of Shakespeare in the Arb, a man resembling William Shakespeare himself appears out of nowhere. A local group of teenagers sets out to solve the mystery, which gets even more complicated with the appearance of several more time travelers. Could they be connected to the mysterious tree in the Arb? And what's the deal with all these earthquakes?