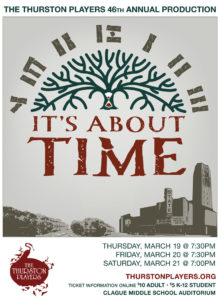 Thank you to our sponsoring local businesses
Our hearts are sad to announce that for the first time in 46 years of production, we need to postpone our show. The play will no longer be held this year on March 19, 20 & 21. This decision follows AAPS's directive that all school activities are cancelled for the rest of the school year due to health measures.

Thank you to our Thurston Community Players Cast & Crew and our community for your commitment, support and understanding.

With our best regards,
Thurston Community Players Board
---
Strange things are afoot in the Arb. During the annual performance of Shakespeare in the Arb, a man resembling William Shakespeare himself appears out of nowhere. A local group of teenagers sets out to solve the mystery, which gets even more complicated with the appearance of several more time travelers. Could they be connected to the mysterious tree in the Arb? And what's the deal with all these earthquakes?